Friday, September 26, 2014 Filed in:
Food Security
|
Nutrition
|
Recipes
Pumpkin Coconut Curry Soup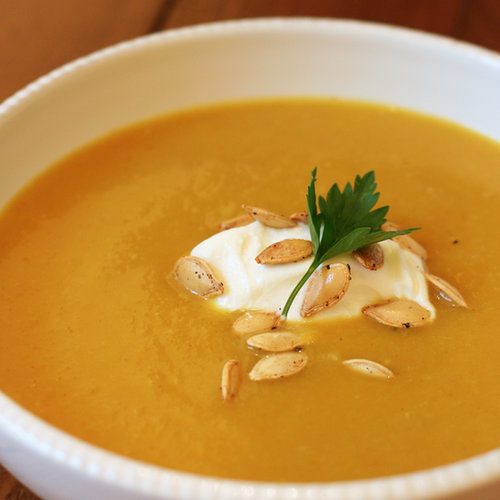 Visit your local Farmers' Market and pick up some pumpkins or squash to use in this healthy and delicious recipe!


Pumpkin Coconut Curry Soup

By: Elizabeth Archer

This soup is perfect for fall. It's as elegant as it is flexible: pick a squash, any squash; substitute white beans for chicken to make it vegetarian; play with the spices and proportions to get the flavor and consistency you prefer. However, unless absolutely necessary, do not leave out the fish sauce!

Ingredients:

* 3-4 lb sugar pumpkin or other winter squash like Red Kuri, Kabocha, Butternut, or Hubbard
* 1 lb chicken breast or tenders
* 1 cup chicken or vegetable broth
* 1 can full-fat coconut milk
* 1 medium onion, diced
* 2 cloves garlic
* 2 TBSP fish sauce
* 2 tsp hot sauce like Siracha
* Curry powder
* Garam masala
* Cumin
* Cinnamon
* Olive oil
* Salt and pepper to taste

Preparation:

1. Cut the chicken into strips and boil until cooked (about 3-5 minutes, depending on thickness). Drain and rinse with cold water, then shred. Set aside.

2. Meanwhile, cut the pumpkin or squash into wedges. Scoop out the seeds and reserve if you're roasting them - incidentally, these same spices make for great roasted seeds! It's up to you if you want to peel the pumpkin before or after cooking.

3. Arrange the slices flesh-up in a casserole dish. Sprinkle with curry, cumin, masala, cinnamon, and salt, rub with olive oil, and pour about one half-inch of water into the casserole dish to create a steam effect. Roast at 375 for about 40 minutes or until a fork goes in easily.

4. Peel the pumpkin if you haven't already. In a food processor or blender, purée the cooked pumpkin with the garlic cloves, coconut milk, ½ cup broth, and fish sauce.

5. In a large soup pot, sauté the onions on medium heat in a tablespoon or two of olive oil with a generous dose of curry and a sprinkling of all the other spices.

6. Once the onions are translucent, add the shredded chicken and ½ cup broth; bring to a simmer.

7. Add the blended mixture and let cook for 30 minutes, stirring occasionally. Add more spices/salt/pepper as desired, plus more broth if you like a thinner soup.

8. Serve with crusty bread and a dollop of yogurt or sour cream, plus a drizzle of hot sauce or squeeze of citrus to brighten the flavors. This soup also freezes beautifully if you somehow manage not to eat it all!



Happy Fall!
Looking for more cooking inspiration?
Click here for past recipes from the Real Dirt Blog!